Nexiwave offers a simple yet full fledged voicemail service.
We know you prefer reading text over listening to voicemails. Yet, don't want to force your callers/customers to hang up to seek alternate methods to contact you. Nexiwave Voicemail service offers the benefits of both worlds:
the convenience to your callers where they can just talk;
the efficiency to you where you can glance through transcribed text;
How Does It Work?
The concept is simple: when you miss a call, your caller will be greeted by Nexiwave Voicemail system where the caller can leave a message like they always do. Nexiwave will transcribe the message and text you the transcript. Here's an example: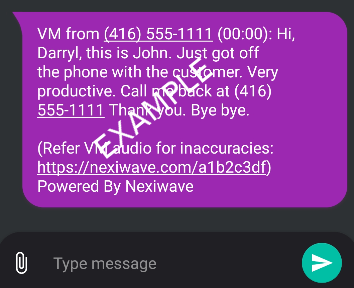 There you go. The perfect mix for both worlds.
Features
Receive your voicemail as text.
Sounds Great. How Do I Get It?
.
Privacy Notice
Due to technological limitation of SMS text (plain text only), Nexiwave offers complementary storage of your voicemail audio for up to one month, so in the event of low quality transcript, you can still listen to the audio. For more information, please refer our Terms and Agreement.